Primavera P6 Training Online
P6 Professional Fundamentals - Live Online Course
BASIC PRIMAVERA P6 PROFESSIONAL TRAINING
Hands-On, Instructor-Led Online P6 Class using Oracle University Curriculum
Ask Questions and talk to your instructor, just like learning P6 in the classroom!


Online P6 Scheduling Classes for Individuals - one-on-one private instruction
OR
Online P6 Training for Your Group of Schedulers
OR
Attend an Online P6 Course Listed on our Schedule from Virtually Anywhere!
Save on Travel Expenses and Time!
NEXT PUBLIC CLASS:
October 5-7, 2020
$1,495
Virtual Class Hours:
PRIVATE INDIVIDUAL CLASSES: When taught online by request for just one person, this P6 scheduling course can typically be completed in either three 4-hour sessions or four 3-hour sessions, typically scheduled to occur over separate days. COST: $1,895. Please contact us to request.
PUBLIC & PRIVATE GROUP CLASSES: If you are attending a training session listed on our public schedule of class dates, then the class hours will be as listed on the schedule, typically 2 1/2 days of training beginning at 1 p.m. (Central Time) on the first day and running 9 a.m. - 5 p.m. on remaining days. To request virtual P6 training for your private group, please contact us for a quote and to schedule.

Please allow for a little extra time prior to class to install and test the software needed to join the class and to download your course book.
Class Format:
Online, Hands-On and Instructor-Led. This class is taught using the Oracle University Curriculum and students will receive a copy of the course manual, containing the lessons and step-by-step instructions, to keep for reference after class. Students will also receive a certificate of completion, upon full completion of the course.
PDUs:
19.5
Summary:

This Oracle Primavera P6 Professional Fundamentals course leads you through hands-on workshops that create and track an entire project to completion, using the three elements of project management: schedule, resource and costs.
This Basic P6 Training Course covers navigation, functionality and workshops in Primavera P6 Professional (Primavera's client/server based solution.)


Build the foundation for successful project management in P6 through hands-on, basic training.


Learn planning and scheduling with Primavera P6.


Scheduling techniques and best practices will be also covered.
Who Should Attend?
Planners and Schedulers, Program Managers, Project Managers and New Primavera P6 Users.
Prerequisites:
Fundamental project management training, an understanding of CPM scheduling concepts and knowledge of Windows™
Learn Outcomes
Add a Project to the Project Structure
Create a Work Breakdown Structure
Add Reference Documents
Add Activities
Add Steps and Roles to Activities
Create Relationships
Schedule a Project
Add Constraints
Organize Activities
Assign Resources and Costs to Activities
Analyze Resource/Cost Usage
Optimize the Schedule
Create and Monitor Thresholds
Status the Project
Analyze the Statused Project
Course Outline
Introduction to Primavera
The Project Management Life Cycle
Overview and Navigating
Creating a Project
Creating a Work Breakdown Structure - WBS
Adding Activities to the Project Schedule
Building and Assigning Activity Calendars
Creating Relationships and Schedule Logic
Scheduling Techniques and Critical Path Calculation
Assigning Constraints
Creating Layouts, Filters and Formatting Data
Understanding Roles & Resources
Assigning Roles, Resources and Costs to Activities
Optimizing the Schedule (Timing, Resources and Costs)
Baselining the Project Plan
Importing and Exporting Schedule Data
Methods of Applying Progress
Project Schedule Updating - Execution and Control
Creating Reflection Projects (What-If Analysis and Remote Updating)
Creating Reports
Printing Output
WORKSHOPS
Creating a Work Breakdown Structure
Adding Activities
Creating Relationships
Scheduling
Assigning Resources and Costs
Analyzing Resources
Project Execution and Control
PLEASE NOTE
Please use the content in these outlines as a general guide as to the topics that will be taught. We cannot guarantee that all the topics listed in an outline will be covered during your particular class. Based on student need, your instructor may have to adjust the course content to suit your class, unexpected events, as well as the composition and skill level of the students in attendance. Course content is subject to change without notice. Course content may change with new releases of the sotware and training materials.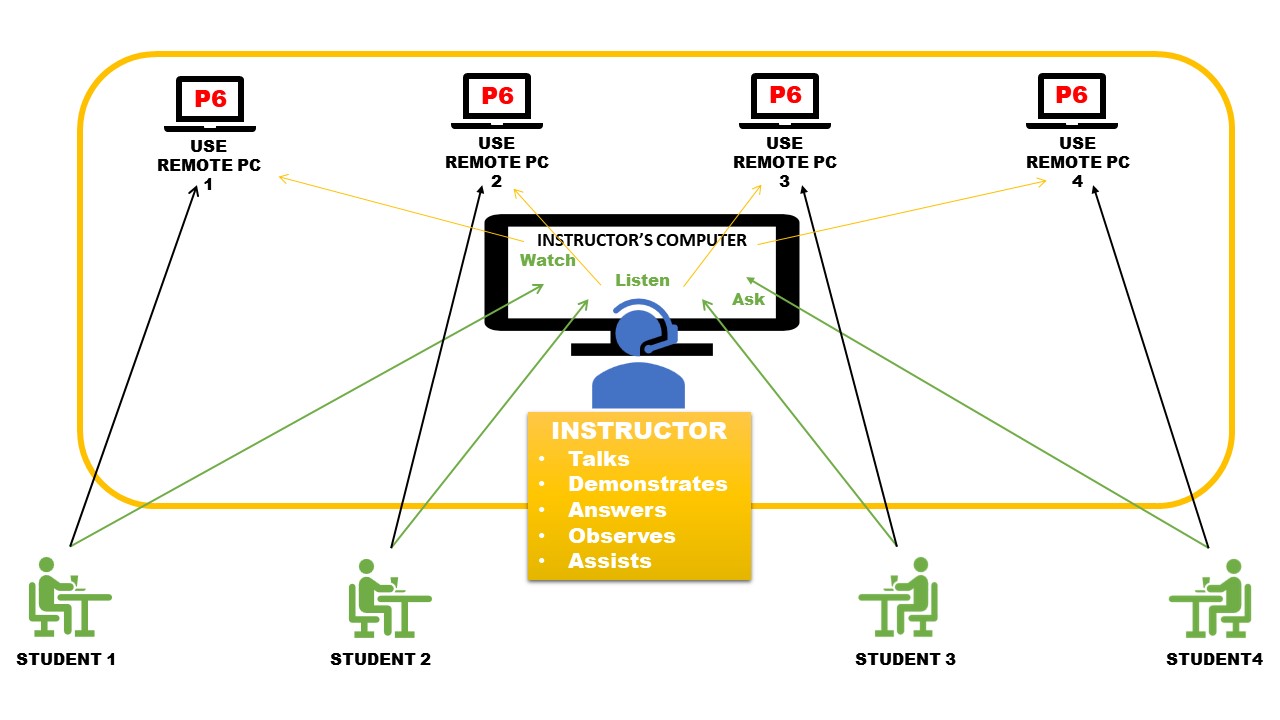 ONLINE TRAINING DETAILS:
VIRTUAL P6 CLASSROOM - HOW IT WORKS:

BOOKING: If you would like to schedule a private class please contact us first to check availability. Once availability is confirmed, please use the registration form on the register page of our website to sign-up. We will then email an invoice to you. Once you have paid for your class, you will be put in touch with an instructor so that you can schedule your training sessions.

If you would like to attend an online P6 class listed on our schedule page, please sign-up using the registration form on the Register page of our website:

Register

COMPUTER: You will need an internet connected computer with a strong and reliable internet connection, but you do not need to have P6 installed on your computer. The remote training pc, which you will connect to, will have the P6 software for you to use in class.

SOFTWARE: The online training will be conducted using the online meeting sofware GoToMeeting and a software program that will allow you to connect to a remote training pc. You will be emailed a link to install these before class, which is quick and easy to do, but you might need to check with your IT administrator first, if you need permission.

AUDIO: You will also need to be able to hear and speak during the training, so either a computer with built-in speakers and a microphone, or connected headsets with a built-in microphone are recommended. Dialing-in via telephone is also an option.

COURSE BOOK: You will receive an email from Oracle prior to the start of class, which will contain a link to download the appropriate Oracle course manual. We recommend having another screen or device to view the course manual on, or you could print it, but it's large.

OPTIONAL: If available, having two monitors or two separate devices for class participation is preferable, because it will make it easier to switch between viewing the instructor's machine in the GoToMeeting window and the window displaying the remote machine (P6) that you are connected to and using.

CERTIFICATE OF COMPLETION: You will be able to access and download your certificate of completion after class, upon full class completion.