Primavera P6 Training
QUICK START P6 PROFESSIONAL COURSE:
Hands-On, Instructor-Led P6 Scheduling Class
Designed for Planners, Schedulers, Program & Project Managers or Engineers who are new to P6
NEXT PUBLIC CLASS:
This class is currently in development.
$---
Virtual Class Hours:
Central Time: 9 a.m. - 5 p.m. Please allow for a little extra time prior to class to install and test the software needed to join the class virtually and to download your course book.

PRIVATE GROUP CLASSES: To request P6 training for your private group, please contact us for a quote and to schedule.
Class Format:
Hands-On and Instructor-Led. This class is taught using materials developed by the same instructors who have been teaching the 3-day P6 Professional Fundamentals courses in the Gulf Coast area and online. Students will receive a copy of the course materials to keep for reference after class. Students will also receive a certificate of completion, upon full completion of the course. While we will intially offer this class in the virtual format, we are planning to offer it in the classroom in the future.
Summary:

This Quick Start P6 class is perfect for planners, schedulers, project managers and engineers who have never used P6 and need an introduction to the P6 scheduling tool.

This class is currently in development. A full summary of what will be covered in class will be uploaded here soon.






Who Should Attend?
Planners and Schedulers, Program Managers, Project Managers and New Primavera P6 Users.
Prerequisites:
Fundamental project management training, an understanding of CPM scheduling concepts and knowledge of Windows™
Learn Outcomes
Course In Developement. More details will be added soon.
Course Outline
More detailed information about this basic P6 course will be added soon
PLEASE NOTE
Please use the content in these outlines as a general guide as to the topics that will be taught. We cannot guarantee that all the topics listed in an outline will be covered during your particular class. Based on student need, your instructor may have to adjust the course content to suit your class, unexpected events, as well as the composition and skill level of the students in attendance. Course content is subject to change without notice. Course content may change with new releases of the sotware and training materials.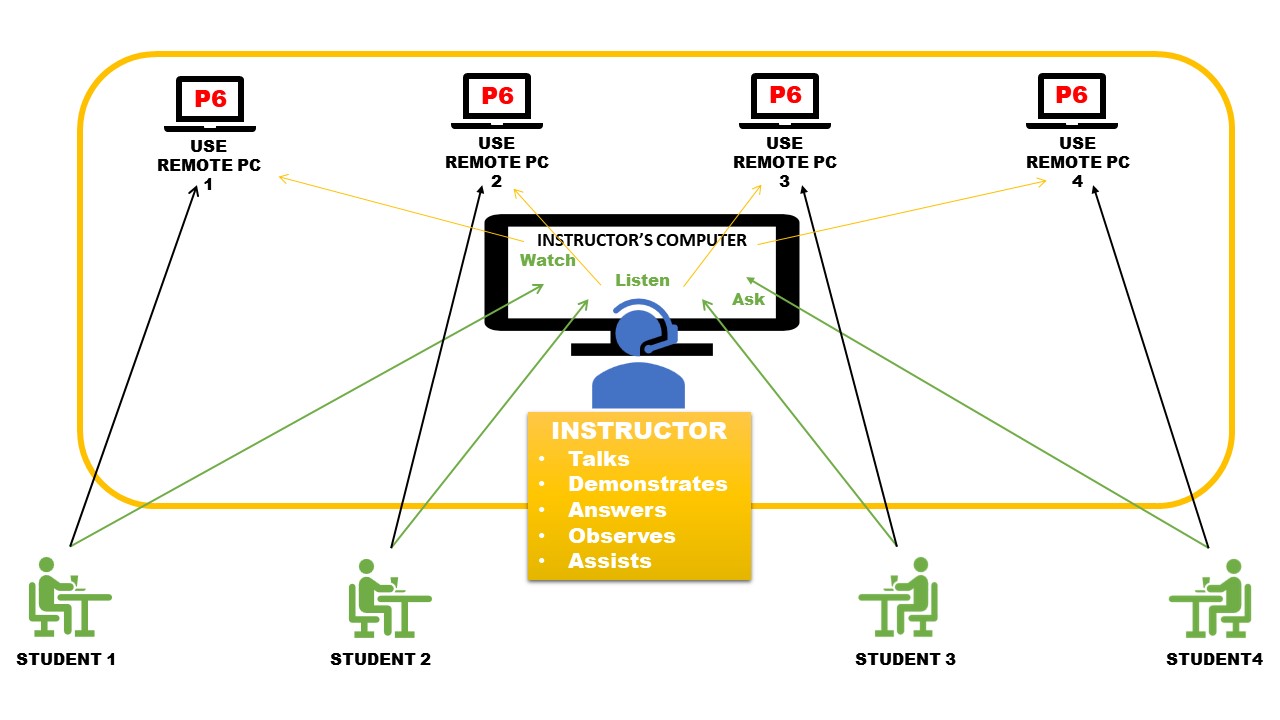 ONLINE TRAINING DETAILS:
VIRTUAL P6 CLASSROOM - HOW IT WORKS:

BOOKING: If you would like to schedule a private class please contact us first to check availability. Once availability is confirmed, please use the registration form on the register page of our website to sign-up. We will then email an invoice to you. Once you have paid for your class, you will be put in touch with an instructor so that you can schedule your training sessions.

If you would like to attend an online P6 class listed on our schedule page, please sign-up using the registration form on the Register page of our website:

Register

COMPUTER: You will need an internet connected computer with a strong and reliable internet connection, but you do not need to have P6 installed on your computer. The remote training pc, which you will connect to, will have the P6 software for you to use in class.

SOFTWARE: The online training will be conducted using the online meeting sofware GoToMeeting and a software program that will allow you to connect to a remote training pc. You will be emailed a link to install these before class, which is quick and easy to do, but you might need to check with your IT administrator first, if you need permission.

AUDIO: You will also need to be able to hear and speak during the training, so either a computer with built-in speakers and a microphone, or connected headsets with a built-in microphone are recommended. Dialing-in via telephone is also an option.

OPTIONAL: If available, having two monitors or two separate devices for class participation is preferable, because it will make it easier to switch between viewing the instructor's machine in the GoToMeeting window and the window displaying the remote machine (P6) that you are connected to and using.

CERTIFICATE OF COMPLETION: You will be sent your certificate of completion after class, upon full class completion.